Including traffic jam avoidance in an agent-based network model
Computational Social Networks
2018
5:5
Received: 16 February 2018
Accepted: 2 May 2018
Published: 14 May 2018
Abstract
Background
Understanding traffic is an important challenge in different scientific fields. While there are many approaches to constructing traffic models, most of them rely on origin–destination data and have difficulties when phenomena should be investigated that have an effect on the origin–destination matrix.
Methods
A macroscopic traffic model is introduced that is novel in the sense that no origin–destination data are required as an input. This information is generated from mobility behavior data using a hybrid approach between agent-based modeling to find the origin and destination points of each vehicle and network techniques to find efficiently the routes most likely used to connect those points. The simulated road utilization and resulting congestion is compared to traffic data to quantitatively evaluate the results. Traffic jam avoidance behavior is included in the model in several variants, which are then all evaluated quantitatively.
Results
The described model is applied to the City of Graz, a typical European city with about 320,000 inhabitants. Calculated results correspond well with reality.
Conclusions
The introduced traffic model, which uses mobility data instead of origin–destination data as input, was successfully applied and offers unique advantages compared to traditional models: Mobility behavior data are valid for different systems, while origin–destination data are very specific to the region in question and more difficult to obtain. In addition, different scenarios (increased population, more use of public transport, etc.) can be evaluated and compared quickly.
Keywords
Agent-based modelSpatial networksTraffic simulationOrigin–destination dataCongestion analysis
Background
Simulating and understanding (urban) traffic is an important challenge related to many different scientific fields like urban planning, transportation planning, and sustainability. The goals of traffic simulations can be manifold and include gaining insight into traffic-related noise pollution [1], finding ways to reduce emissions [2], or analyzing the effects of policies [3]. To reach these goals, many different approaches to traffic simulations exist (see, for example, [4] for a detailed overview).
In general, traffic models can be divided into two categories, namely bottom–up and top–down approaches. Bottom–up approaches start from individual vehicles and simulate their behavior to find aggregated macro-scale results. Most bottom–up approaches are micro-scale agent-based car-following models; prominent examples are the open source projects MatSIM [5] and SUMO [6] or the commercially available software VISSIM [7]. The downside of such detailed bottom–up approaches is that they need a lot of input data, in some cases complete origin–destination matrices, i.e., the complete information what vehicle drives from which starting point to which destination. In addition, their computation time is relatively high, so that calculation in real time may only be possible for small systems. A completely different approach is used for top–down models. Their starting point is the macro-scale, i.e., statistical information about traffic flow or other macroscopic properties. Such statistical models can, for example, be used to calculate emissions [8] very efficiently.
Both bottom–up and top–down approaches can utilize networks or more specifically spatial networks [9], in the simplest case to represent the road network, but also more sophisticated network methods can be incorporated in a traffic model [10], to focus on the network itself, rather than the vehicles using the road network, which can significantly speed up computation time [11].
In this study, we use a hybrid approach [12], combining features of both bottom–up and top–down methods. One of the biggest challenges in traffic simulation is to obtain realistic origin–destination data. This can be done by combining traffic count with survey data [13] or by utilizing information from a mobile-phone network [14]. In this study, we use survey data about the mobility behavior of citizens to generate realistic origin–destination data within the model. This approach has many advantages; for example, it is straightforward to evaluate various scenarios, like a certain change in mobility behavior (more use of public transport, an increased popularity of online shopping, and telecommuting) as well as juridical changes, changes in the infrastructure, or technological changes, all within the same framework. This makes the model especially powerful and versatile for the evaluation of the impact of various policies. The starting point of this study is the idea presented in [15], but goes beyond this by investigating traffic jam avoidance behavior and developing a technique to quantitatively evaluate the validity of the road usage data produced in a network-based traffic model. As a case study for evaluation we choose the City of Graz, an Austrian city with about 320,000 people, because it is a typical European city of this size.
This paper is organized as follows: "Methods" section describes the model development and gives details on the process used for evaluation. "Results" section presents the obtained results, primarily focusing on the question whether realistic road usage data could be obtained. "Discussion" section concludes with limitations and possible expansions of the presented model.
Methods
The aim of the model presented here is to generate realistic road usage data and resulting congestion information using a network approach utilizing statistical data about mobility behavior. This process is split into six steps. First, a network representation of the investigated area is generated. In a second step, internode relations like effective distances and shortest paths are calculated. To generate a pool of realistic trips, a mobility behavior survey [16] is used. From this pool of trips, realistic road usage data are obtained in an agent-based process. Traffic jam avoidance effects are then included via an iterative method. Finally, obtained results are evaluated quantitatively.
Results
Overall road usage
The main results of each simulation run are the origin–destination data itself (which could be used as an input for a microscopic car-following model), the trajectories of all cars, and overall road usage and resulting congestion.
For every hour of the simulated day, the congestion is calculated as described in "
Including traffic jam
" section. Since the road segments are not congested most of the day and therefore not suitable for evaluation, we use the morning rush-hour between 7 and 8 a.m. for evaluation. The congestion after a first approximation of traffic without traffic jam avoidance is compared with congestion visualization from a weekday at the same time from Google Maps in Fig.
2
. It shows the simulated congestion without including effects of traffic jam avoidance (left panel) compared to the actual congestion (right panel). The simulated congestion values are calculated from the load factor a, given in Eq. (
2
), during rush-hour. The right panel shows data extracted from Google Traffic, i.e., the amount of congestion during peak activity. Both values are in good agreement; most main travel routes are accurately depicted. This is not trivial, since no origin–destination data were used as an input for the model.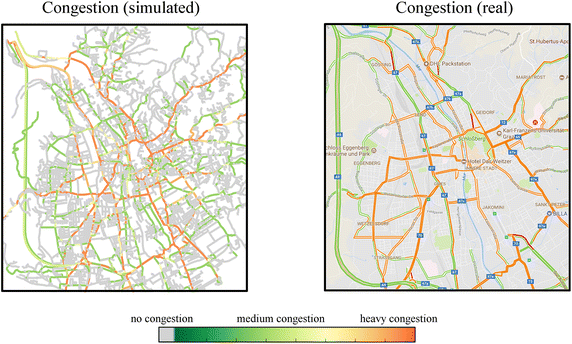 However, on closer inspection, there are some discrepancies between the simulated traffic data and the real traffic data. Mainly, the big roads are used extensively, so that a large amount of congestion occurs, while smaller, parallel roads are used only infrequently. The reason for this is that traffic jam avoidance is not included yet. Accounting for this effect significantly improves the results, as can be seen in "Quantitative evaluation and traffic jam avoidance" section.
Quantitative evaluation and traffic jam avoidance
Including traffic jam avoidance strategies in an iterative process detailed in "Including traffic jam" section could make the obtained traffic data more realistic. However, a priori not all parameters of this technique are known. Namely, the number of iterations needed until convergence is reached is unknown, as well as the actual percentage of drivers who change their route to avoid traffic jam. To fine-tune these parameters, the method presented in "Quantitative evaluation using congestion data" section is used for the evaluation. Using this precise feedback, how well the simulation matches the reality, we can determine the unknown parameters.
The results of the quantitative evaluation of the model are presented in Fig.
3
. Shown is the relative error of congestion for each section of road for a simulation run without any traffic jam avoidance. Summing over all edges and weighting with the length of the section of road [see Eq. (
5
)] lead to an average deviation of 0.0301. While some sections of road are described very well, others show too much congestion, compared to reality, while others show too little.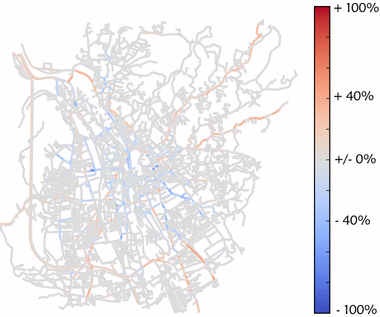 This result can be improved by the process detailed in "
Including traffic jam
" section. Literature suggests that 30% of commuters change their routes to avoid traffic; nevertheless, we scanned a bigger range of parameters, since especially in a city traffic avoidance behavior is not known precisely. In addition, we investigate the effect of several iterations on the validity of the simulation. This analysis is shown in Fig.
4
.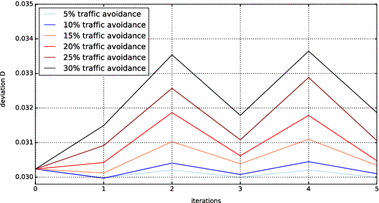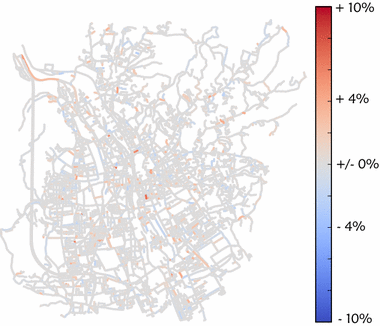 It is clearly visible that traffic avoidance chances of more than 10% cannot lead to an improvement. The best match between simulated and real data is achieved for a traffic avoidance chance of 10% after one iterative step. Note, that using a 5% traffic avoidance chance also iterations 1, 3, and 5 are in relatively good agreement, while even numbered iterations perform worse in general. The reason for this effect is the iterative nature of the traffic jam avoidance. The initial guess (0) features no traffic jam avoidance. In iteration 1, the agents avoid the heavily congested roads, making them less congested, corresponding to a more realistic picture. In iteration 2, some of the agents change back to the previously heavily congested roads, since they were less congested in iteration 1. This process repeats itself, so that the odd numbered iterations always produce more realistic results.
To visualize the positive effect of considering traffic jam avoidance, we calculate the difference in D between a simulation run without traffic jam avoidance and one with traffic jam avoidance (10%, first iteration). This difference is shown in Fig. 5. Although the change is relatively small, it reduces overall deviation to 0.0298, since most changes increase traffic in the inner city, which was one of the main errors (see Fig. 3).
Discussion
It was possible to show that the presented model can quite accurately predict the road utilization of a given system without the need for origin–destination data. Precise knowledge about the mobility behavior is enough to gain satisfying results on which roads are used how often during which hour of the day. The main error is that traffic on the main roads leading into the city is overestimated, while inner city traffic is slightly underestimated. This effect has to do with the fact that agents always choose the fastest path, using the allowed speed limit to approximate travel time, while, in reality, heavily congested roads may have decreased effective speed and are, therefore, avoided by drivers. The error can be combated by including traffic jam avoidance strategies into the agents behavior.
Results showed that the best way to include traffic jam avoidance is to assume that 10% of the drivers change their route to evade congested roads. This is a lower percentage than is reported in [22]. The reason for this is that we investigated the road network of a city and that traffic jam avoidance behavior is different in an urban environment. Here, there are very few alternative paths, and even if alternative paths exist, during rush-hour, they are congested in a similar way. In addition, people as well as roads are adapted to congestion on main urban roads, so only very few drivers deviate from the prominent direct routes. One limitation of the presented model is the temporal resolution. Time is discretized in steps of 1 h. A finer discretization of time is not straightforward for the following reasons. The main advantage of the proposed model is its fast computation time, compared to the traditional car-following models. This only works, because the actual movement of all cars is simplified drastically. Actual speed and driving time are only known on averages, but there is no information about the speed, and, therefore, the current position of each car, only the exact paths are known. This simplification works quite well, as long as the assumption holds, that most of the cars are able to finish their routes within one unit of discrete time, i.e., here 1 h. This is reasonable in an urban environment. However, reducing the time steps to minutes would lead to the breakdown of this assumption. Additional information about the position of each vehicle at each minute needs to be calculated, which is much more time-consuming than the currently needed information about the path of each vehicle at each hour. Furthermore, road capacities are usually only defined in cars per day or cars per hour and it is generally advised against using road capacities for shorter time periods, since they may be inaccurate [21].
An interesting expansion would be to increase the size of the investigated road network. With the exception of calculating inter node relations, which only needs to be done once for each system, the model scales very well with the number of nodes in the system, so the actual computation time would not increase drastically. This would not only provide more information about the traffic situation outside the city, but also commuting from other cities would be included naturally, which may further improve the accuracy of the model. For even larger systems, it may be beneficial to calculate and save the shortest paths between each and every node in the system. While this process is quite memory intense and requires a lot of computation time, it needs to be done only once and, therefore, drastically speeds up computation time in the long run.
Shown here is the application of the presented model to the City of Graz, however, application to a different urban system would also be possible. Map data are available from OpenStreetMap for most regions in great detail and can be imported in the same way as presented in "Generating a road network representation" section. Mobility data were collected in Austria [16], but it is reasonable to assume that mobility behavior depends more on certain specifics of a city, rather than the country the city is in, so using Austrian mobility data of a city with similar properties and structure may yield reasonable results. Alternatively, mobility behavior data from a different source, giving details about the investigated city, could be used to further improve the descriptive power of the model. That way, the presented framework could theoretically be used to simulate an arbitrary road network in the same way as was done here for the City of Graz.
Accurately depicting the correct road usage of a given system without relying on actual origin–destination data is the basis of future investigations. Now that we were able to show that the presented model produces satisfying results with quantitative evaluation, the next step is to use this model to make predictions about various scenarios. We can make significant manipulations on the road network, or change the number of agents to account for future population development. In addition, different mobility behavior can be used to evaluate various scenarios. Since we have specific information about the reason for each trip, we can implement societal changes, like an increase in telecommuting, unemployment, or online shopping. A rudimentary analysis using an early version of the presented approach was performed in [24] and focused on emission, which are especially relevant in urban systems [25, 26]. Yet, that study lacked quantitative evaluation on a local scale and it used a simplified path finding algorithm, which completely neglects traffic jam avoidance behavior. Using the methods presented here, the analysis could be improved significantly, increasing the predictive power of the used model. Especially, for changes that affect inner city traffic and commuting behavior, an accurate depiction of congestion and congestion avoidance is paramount and including these effects in the way presented here would be a valuable expansion, making the results more realistic and accurate.
Declarations
Authors' contributions
CH and GJ developed the model and analyzed the results. All authors contributed to editing the final manuscript. All authors read and approved the final manuscript.
Acknowledgements
The authors would like to thank the University of Graz for the financial support regarding the publication fees.
Competing interests
The authors declare that they have no competing interests.
Availability of data and materials
All relevant data are within the paper.
Ethics approval and consent to participate
Not applicable.
Funding
The University of Graz offered financial support for the publication fees of this paper.
Publisher's Note
Springer Nature remains neutral with regard to jurisdictional claims in published maps and institutional affiliations.
Open AccessThis article is distributed under the terms of the Creative Commons Attribution 4.0 International License (http://creativecommons.org/licenses/by/4.0/), which permits unrestricted use, distribution, and reproduction in any medium, provided you give appropriate credit to the original author(s) and the source, provide a link to the Creative Commons license, and indicate if changes were made.
Authors' Affiliations
(1)
Institute of Systems Sciences, Innovation and Sustainability Research, University of Graz, Graz, Austria